Discover more from Adulting with ADHD
Hi ADHDers! Here's a personal insight into what it's like clumsily navigating life with a late ADHD diagnosis! No topics off limits, so are you in?
Over 10,000 subscribers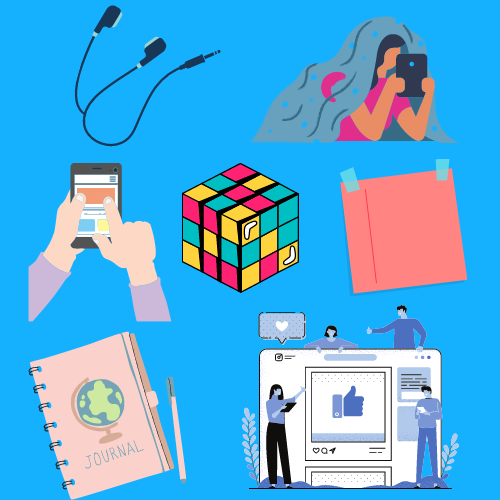 Image Description: 7 images of earphones, a woman holding a tablet with a blanket over her head, a phone, a Rubik's cube, a post-it note, a journal and a pen and a screen featuring Instagram with 4 people stood around it.
A starter pack is a bunch of items that best describes a person, a culture or a group. I've put together a list of nice to have items for a typical ADHD starter pack.
1. Noise-cancelling earphones
Many ADHDers experience noise sensitivity. This is when everyday sounds are amplified to the ear of the individual. Purchasing a pair of noise-cancelling earphones was a life-saver for me!
2. Weighted blanket
Winter is coming and a weighted blanket is at the top of my list! I asked the Twitter ADHD community about their experiences using a weighted blanket. The most common responses I received was that the weighted blanket was perfect for anxiety, relaxing, and it helped with falling asleep.

Read the responses here:

https://twitter.com/AdultingADHD/status/1296410493893173249?s=20
3. Organising tool
Difficulties [in] being organised and time management is a common ADHD trait. Todoist is a to-do list app that has been recommended to me by many ADHDers. You can set reminders, set daily goals, and it's pretty easy to use.
4. Post-it notes
Post-it notes are simple but effective. Whenever you try to convince yourself that you'll remember something later on, why not grab a post-it note and write it down. It works a treat!
5. Bullet Journal
I know ADHDers find that bullet journals are a bit hit and miss! I never really started using my bullet journal up until recently. It's A6 size and it's perfect for me to sketch in.

ADHDers expressed how they felt about bullet journals under one of my previous tweets: https://twitter.com/AdultingADHD/status/1293280550690717701?s=20
6. Fidget toys
Fidget toys are used by many adults with ADHD to help us improve our focus. I wrote a newsletter on different ways fidget toys have helped me. You can check it out here: 'Do fidget toys work for adults with ADHD'.
7. ADHD community
The online ADHD community has helped me so much this past couple of months during lockdown! It's been great connecting with people who are just like me and who understand the ADHD experience. Whether it's Twitter, Facebook, Reddit or Discord, find yourself and online ADHD community. You won't regret it!
Let me know what's in your ADHD starter pack.
Rach, with ADHD.